How to get to
Ximending
Via the MRT – there is an Ximen station, when you exit to street level you are at one end of the district in a large square. Follow the pedestrian area to go through the main part of the district, but don't forget to visit all the small sidestreets and alleys that often contain some of the best choices.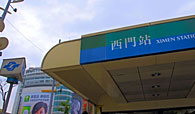 Leave the MRT via Exit 6 and when you reach the ground level do not cross the road but instead turn right and walk forward until you find the pedestrian area. The area is clearly identifiable by the paved walk in the middle instead of tarmark. However do take care as in Taipei scooters are still common in pedestrian areas.
Through the district the pedestrianized roads are linked together by round junction points. Take a map to make sure you have explored the whole of the distrct, or come back for a visit on another day and experience more parts of Ximending!